Traveling to Manila, the capital city of the huge archipelagic nation of the Philippines can guarantee you of plenty of leisure and fun things to do. The bayside city is located on Luzon Island- the largest of all the 7000 islands in the Philippines. The main appeal of the megalopolis of Manila is old Spanish architectural buildings, breathtakingly tall skyscrapers, boat rides, tasty Filipino cuisine and a thriving nightlife scene. Traveling to Manila in 2020 is one of the best decisions you are going to make for experiencing the beauty of this true pearl in South East Asia.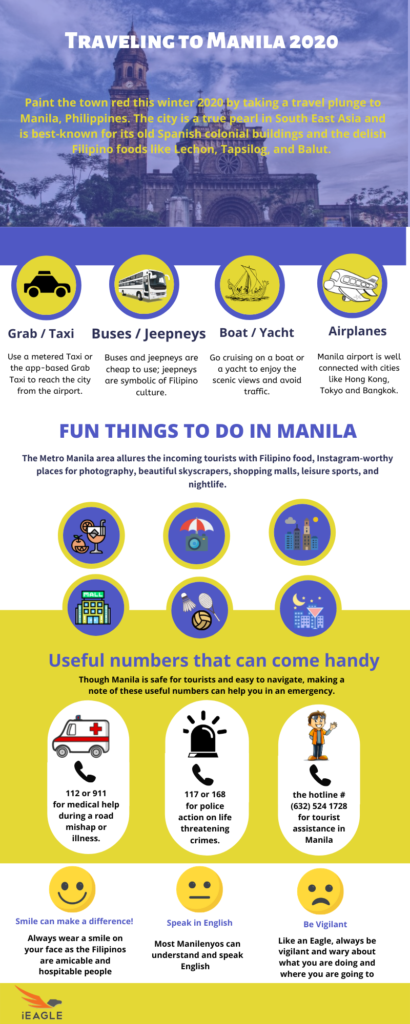 What is the difference between Manila and Metro Manila?
Travelers often get confused about the usage of Manila and Metro Manila because of their wide spread use in the city. To make things clear Manila is a city in the Metro Manila region. So Metro Manila (also known as NCR region) refers to a bigger region which includes many cities; Quezon City being the largest of all the cities in the NCR region.
How to get around Manila?
The city of Manila is easy to get around as it has an extensive network of road connectivity through its cheap modes of public transportation such as metered taxis, app-based GRAB taxis, buses using dedicated lanes, metro lines, signature style jeepneys, river boats, and yachts. Often using a combination of all the available modes is the best way of getting around Manila and the nearby islands.  Taking a boat ride to a nearby island for instance is better than taking a domestic flight as it works out cheaper than taking a flight; using a jeepney can help you explore the city's bustling streets in a signature style of the Filipino people.
Fun Things to do in Manila
The Metro Manila area allures the incoming tourists with so many vital landmarks, instagrammable places, tall skyscrapers, gastronomy, and nightlife. When in Manila we want you to put the following in your bucket-list of best things to do in Manila:
Food:
The famous Filipino foods are characterized by a spicy flavor and the use of ingredients such as meat, seafood and finely chopped fresh vegetables with local seasoning. The must-try Filipino foods in Manila are:
Chicken Adobo- A national dish of the Filipinos, a must-try. The dish is made by slow cooking the marinade of chicken with soy sauce and vinegar in a clay pot
Kare kare- A popular oxtail stew made with vegetables and a thick paste of roasted peanuts, garlic and onions
Halo Halo- A popular desert from the Filipino islands with the main ingredients of iced shavings and evaporated milk along with ice cream and other seasonal fruits and vegetables
Photography:
Manila prides itself for being home to many Instagram-worthy places which are perfect for photography. The following are our top picks for photography in Manila:
Intramuros- This refers to the ancient remnants of Spanish empire and is also known as 'The Walled City'. The place is perfect for exploring and taking snapshots of the old Spanish Colonial style buildings scattered across its length and breadth
Fort Santiago- This is a historical citadel worth visiting for admiring its Spanish architecture. The fort is set against the backdrop of beautiful scenery and is perfect for photography
Manila Baywalk- This is a popular walkway along Roxas Boulevard with palm-lined tress. Take a stroll on the walkway during dusk to watch stunning sunsets. The place is an Instagram-worthy spot
Skyscrapers:
One of the main highlights of Manila is its huge skyscrapers. While in manila you mustn't miss taking a close up of its tallest buildings like Trump Tower Manila, Grand Riviera Suites, and Golden Empire Tower to name a few.
Shopping:
Buying the local souvenirs can help you treasure unforgettable moments of your trip. Manila is as good as Singapore and Bangkok when it comes to shopping. Traveling to Manila in 2020 is worth the trip if you are one of those shopaholics. The city is packed with a myriad of high-end shopping malls, and cheap shopping markets with many bargain stalls. For the local souvenirs, you have a wide selection to choose from like Pina cloth, local handicrafts, pearls, and Barako coffee. For upscale shopping in Manila we recommend shopping at SM Mall of Asia.
Sports:
If you think Manila is only good for nightlife, sightseeing, food, and culture, you are mistaken. The city is famous for leisure sports such as shooting, Taekwondo and archery. For a one-of-a-kind sport experience, we suggest visiting Gandiva Café and Archery in Pasig City for trying your hand at archery, Commander Shooting Range in Quezon City for testing your shooting skills, and Taekwondo Training Center in Taguig City for learning this martial art from the two prominent Taekwondo Olympians -Rosario and Stephen Fernandez. Traveling to Manila in 2020 for exploring its leisure options is truly worth the trip.
Nightlife:
Nightlife in Manila is the major source of revenue for Manila Tourism. The locals are known for partying a lot, especially during the weekends when most of the nightclubs, bars and pubs get crowded with them. For the best nightclubs in Metro Manila we recommend visiting the Palace Pool Club in Taguig City, Prive Luxury Club in Taguig City and the Reserve Liquor Lounge in Pasig City. Tourists can expect to do fun things like dancing on the dance floor, sampling the local exotic cocktails & beers while listening to the music played by in-house DJs from genres such as House Music, R&B, Rock, Pop and Hip-Hop.
Now that you have got a big picture about traveling to Manila in 2020, don't you think it's about time you planned a holiday in this thriving capital city of the Philippines? Have your cheap flights to Manila booked on IEagle.com for leveraging the lowest airfares on flights.