India is a nation flourishing with a population of youngsters leading to an increased demand for thrilling expeditions. This diverse country is blessed with varied terrains to suit all your road trip needs. From valleys, desserts, forests are plateaus; India has a plethora of innovative routes to choose from.
This list of the best motorcycle trips in India for weekends will appeal to motorcycle enthusiasts worldwide. So get your riding gear packed and book cheap flight tickets to India as soon as you can. Don't miss out on an adventure of a lifetime that will enrich you with unique experiences.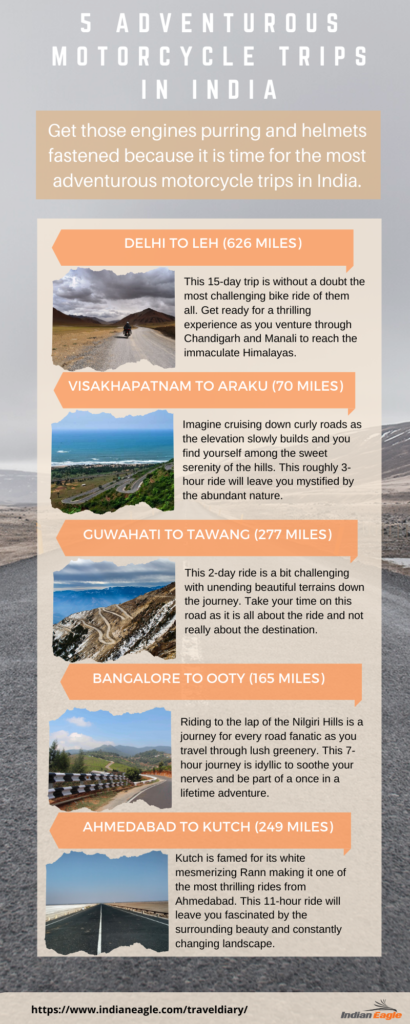 Delhi to Leh: A Biker's Wet Dream
If you ask any biker which is their ultimate destination to ride in India; it will be without a doubt Leh- Ladakh. It is a biker's dream come true to rev the engine down challenging roads to reach the glorious Himalayas. The best time to experience this exhilarating ride is during late June and mid-September.
Get ready to roar that engine as you venture through scenic roads with an epic backdrop of the mountains. It is advised to hire a bike from Delhi's many road tripping agencies to avoid the mandatory paperwork if you take your own vehicle.
Distance: 626 miles
Visakhapatnam to Araku Valley: Where Water meets Hills
Are you planning a trip to South India and looking for a fun biking route? Then look no more, Visakhapatnam to Araku Valley is one of the best motorcycle trips in India for weekends. You will find yourself cruising through curvy roads with lush green hills trailing alongside the road. 
Reaching this terrestrial region is an awe-inspiring journey as you get to see the graceful union of the Eastern Ghats and the seas of the Bay of Bengal. The gentle elevation and picturesque sceneries will leave you wanting more. If you have the time, visit Tatipudi Reservoir and Borra Caves on your way to Araku.
Distance: 70 miles
Guwahati to Tawang: The Best of Both Worlds
This Eastern terrain journey is jaw droppingly beautiful as you first find lush green Himalayas and then you are faced with the snowcapped Himalayan range. The Guwahati to Tawang ride is comparatively more challenging than the above route. But it all pays off once you reach Sela Pass, the dream mountain road for every biker.
Distance: 277 miles
Suggested Read: Simple Travel Guide to Most Beautiful Road Trips in India
Bangalore to Ooty: A Road Fanatic's Holy Grail
Ooty is a beautiful hill station that gently lies in the lap of the Nilgiri Hills. Every biker needs to take this road trip at least once because as they say, 'Four wheels move the body but two move the soul.' So, get cracking and burn some oil for a breathtaking experience. The road to Ooty is far from isolated giving you a plethora of options for resting.
Distance: 165 miles
Ahmedabad to Kutch: A Heavenly Ride to the Rann
This is a relatively short ride but the ecologically abundant landforms are dazzling. Get those engines churning as you embark on a quaint road leading to the white salt desert. It takes about 10 to 11 hours to reach the Rann of Kutch, so start the ride early in the morning. Some of the roads aren't in the best condition so avoid a night ride.
Distance: 249 miles
These best motorcycle trips in India for weekends are undoubtedly the ultimate journey of any biker's lifetime. Don't waste any more time and pack all your gear to embark on this expedition that will be etched in your heart forever. Looking for a quick way to book flight tickets then give Indian Eagle a shot.