Traveling is one of life's greatest pleasures, especially for those who have been bitten by the wanderlust bug. Traveling gives great joy and wonderful memories, but how you travel is a major factor in how much fun you have, both while planning and while traveling.
Solo trip and group travel are the two most common types of travel. Both have advantages and disadvantages, and which you choose will have a significant impact on your travels. Before we get into some of the considerations about solo travel vs group travel you should make when deciding how to travel, let's go over each of these methods in detail.
What is solo travel?
Solo travel entails making your own plans, making connections and reservations, selecting best places to travel alone and coordinating all aspects of your trip. This could be done with a friend or partner, or you could go alone or on a private tour with a guide.
What is group travel?
Group travel is a simpler option in which you find a pre-arranged tour with a group of people – often strangers to you – and pay the tour guide to make all the arrangements.
However, it is extremely simple. Here is the list of some of the most important factors to assist you in making an informed decision when the time comes.
Solo Travel vs Group Travel:
Solo Travel Tours
You can make your own decision
The main advantage of solo trip is that you don't have to worry about anyone but yourself and your preferences. You have complete control over your journey. You get to choose what you eat and what you see. You are not reliant on the preferences of others; your own choices come first. If you prefer fast-paced travel over slow travel, go ahead; no one will slow you down or hold you back!
Also Read: Top 5 Travel Tips to Stay Healthy on a Trip
Spend your personal time
Because you are not bound by a group schedule, a solo trip may be more efficient than a group trip. For ex: If you want to wake up early morning and start exploring because you're a morning person, you can. You end up making better use of your time. There will be many such instances with group travel, and when they add up, you realize you're not taking advantage of your valuable vacation time.
You discover a new version of yourself
When you travel alone, everything about you and how you act in general changes. You end up getting out of your comfort zone because you know you can't rely on group members. Instead, you learn about a new side of yourself. You become the type of person who strikes up random conversations with locals or does something you would never have pushed yourself to do before. You'll be grateful for the opportunity to better understand yourself.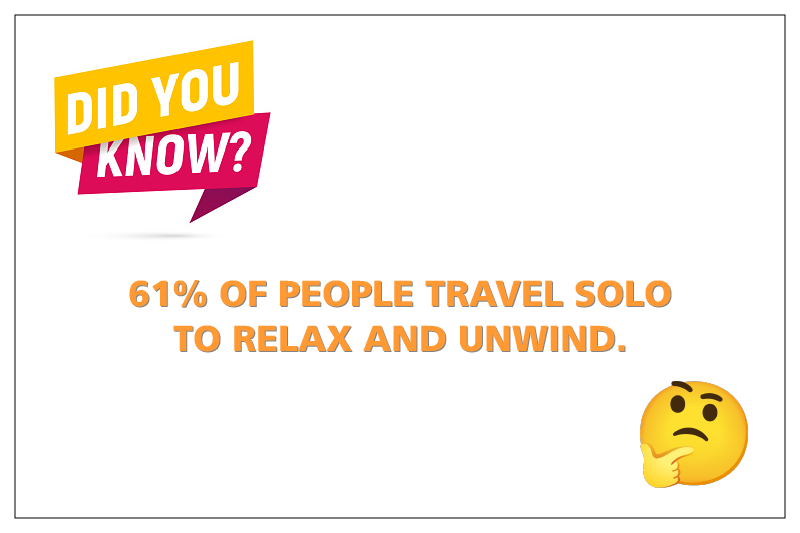 Group Travel Tours:
You can have an exciting itinerary
When you travel in a group, the task of planning an itinerary is not entirely on your shoulders. You get to share the burden of navigating a new environment with others. If you're traveling with a group of friends, assign each person a task. So, if you're short on time to plan an itinerary or can't find unique things to do in the place you're visiting, group collaboration can be beneficial.
You can share your experiences
In group tours, you will have someone to take pictures with, share meals with, have interesting conversations with, and participate in activities with. You won't have to travel alone because you'll have company, and you'll feel less homesick. If you plan a trip with family and friends, you may strengthen your bonds with them. You'll also remember the good and bad parts of the trip for the rest of your life.
Also Read: 10 Top Things for Solo Travelers to Do On Their First Solo Trip
You feel safer
It's easy to feel safer in groups, even if you'll never trust your not-so-bright friend to save you. There's the reassurance that there's a sense of security that comes with being in a group. It's the assurance that if something goes wrong, you have someone who can make things right. For example, if you lose some money or your phone while traveling, your friends can help you.
So, with the above factors, it is recommended that you carefully consider both options. Depending on where you're going, solo trip may be boring while group travel may be fun. To understand which option to select, you must be aware of the advantages of both.
If you are planning to travel to India from the United States? Indian Eagle offers low-cost USA to India flights. So, why to wait? Go, travel, and have the time of your life, whether alone or in a group!