The third phase of India's vaccination drive is in full swing and the country has administered over 23 crore vaccine doses to eligible beneficiaries so far. While the world's largest vaccine producer leaves no stone unturned to meet its huge domestic vaccine needs, the reports of vaccine side-effects are leaving laypersons with several questions related to the COVID-19 vaccines, pre-vaccine care, after-effects of vaccination, post-vaccine precautions, and the like.
Vaccination is the need of the hour, and the vaccine misinformation flying about is the biggest threat to the success of this program. So, it is important to be aware of the facts and leave no room for doubt as you register yourself for the jab. We have compiled here all the information about inoculation against COVID-19 to clear the fog of confusion. Read on!
Suggested Read: Fully vaccinated travelers may not require RT-PCR report for domestic air travel
Frequently asked questions related to COVID-19 vaccines
Which COVID-19 vaccines are licensed in India?
India has approved 3 vaccines for emergency use so far — Covaxin (developed by Bharat Biotech in collaboration with the Indian Council of Medical Research (ICMR), Covishield (developed by the Oxford-AstraZeneca and being manufactured by the Serum Institute of India), and Russia's Sputnik V (being distributed in India by Dr. Reddy's Laboratory).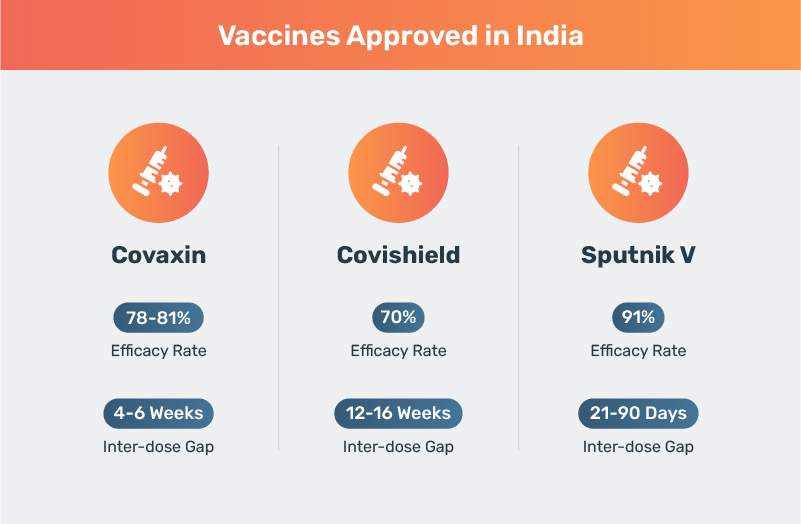 Are COVID-19 vaccines free?
Vaccines are free at government centers for people above 45 years of age and at private centers, one dose costs around ₹250. However, beneficiaries of the age group between 18 and 44 will have to bear the cost, even as several states declared free doses at the state government centers.
The Serum Institute of India (SII) has fixed the price of a single dose of Covishield at ₹300 for state governments and ₹600 for private hospitals, while Bharat Biotech has fixed the prices of Covaxin at ₹400 a dose for state governments and ₹1,200 a dose for private hospitals. Sputnik V is currently priced at ₹995 per dose and is available only at Apollo Hospitals in Hyderabad for those aged above 45 years.
How effective are these vaccines?
All three COVID-19 vaccines have shown promising results in their respective clinical trials. The efficacy rate of Sputnik V is over 91%, as per interim results of the clinical trials. Covaxin's efficacy rate is 78-81%, and Covishield carries an overall efficacy rate of 70%, which could further reach up to 90% if a full dose is given a month after administering a half dose. A clinical study found Covaxin to be much more effective against new virus strains.
Will you get to choose which vaccine you receive?
In the third phase of the vaccination drive, Indian adults have been given an option to choose their preferred vaccine jab, provided they get vaccinated at a private center where they'll have to pay for the vaccine. The government centers will continue to vaccinate beneficiaries depending on the availability of vaccines at the state level.
Also Read: Future Air travel: Here's how COVID-19 is transforming the passenger experience at airports!
Can you take the vaccine if you already have had COVID-19 earlier?
People who have recovered from COVID-19 develop certain immunity to the virus, but the length of time this protection lasts is not yet established and the strength of the immune response is also different for different persons. In the present situation when there is an acute vaccine shortage and many vulnerable people lined up for vaccination, experts are of the opinion that those who have just recovered from COVID-19 could wait for at least two months and up to 90 days before getting inoculated.
Vaccination shouldn't be ignored at all costs as these efficient vaccines help develop a stronger immune response and provide more consistent and long-lasting immunity.
Can you take the vaccine jab if you have COVID-19 symptoms but tested negative?
If it is so that you have active symptoms of SARS-CoV-2 infection but tested negative for coronavirus, it is advisable to take the vaccine after 4-8 weeks of complete recovery.
Can you take the second dose if you contract the virus in between vaccine doses?
According to the new guidelines from the Union Health Ministry, individuals who contracted COVID-19 after the first dose should defer the second dose by 3 months after clinical recovery from COVID-19.
Is the vaccine safe for people with comorbidities and suppressed immune systems?
Yes, the licensed COVID-19 vaccines are safe for people with comorbidities, including hypertension, diabetes, asthma, pulmonary, liver, or kidney disease as well as chronic infections that are stable and controlled. Health experts also believe that the benefits of vaccination outweigh the risks in immunocompromised or immunosuppressed people who are at higher risk of severe illness and complications from COVID-19. So, they urge individuals with underlying health conditions to consult with their treating specialist and get inoculated if it is safe for them.
Can pregnant and lactating women take the vaccine?
The Health Ministry advises pregnant and lactating women against vaccination as they have not been a part of the vaccine trials. Although WHO recommends vaccination for pregnant and breastfeeding women, the Government of India is yet to make a final decision.
Who should avoid vaccination?
The COVID-19 vaccine is contraindicated in people with a history of anaphylactic or allergic reactions to food items, pharmaceutical drugs (any component of the COVID-19 vaccine), and injectable (intramuscular or intravenous) medication.
People who have experienced complications with the previous dose, those who have been given monoclonal antibodies or plasma therapy, immunocompromised people, those with low platelets or on steroid treatment, and people with a history of bleeding or coagulation disorder must take advice from physicians regarding vaccination.
The Government also advises people who have had "serious general illness requiring hospitalization or the ICU care" to defer vaccination by 4-8 weeks.
What is the ideal gap between vaccine doses? Is it safe to delay a second dose?
All three vaccines come as a two-dose regimen, administered weeks apart. While the first dose induces an immune response, the second dose strengthens it.
The ideal interval between the two doses of Covaxin is 4-6 weeks, and for Covishield, it has been pushed to 12-16 weeks from the initial 6-8 weeks. This recommendation came after experts observed a strengthened immune response when the Covishield dosing is delayed.
It is always advisable to follow the ideal spacing of the doses recommended by respective vaccine manufacturers for the best antibody response, but there is no harm if your second dose gets a little delayed, but be sure not to miss it. The best thing to do is to consult your doctor and proceed with their guidance.
Also Read : Check out these Essential Business Travel Tips during COVID-19
Pre-vaccination precautions:
Try to be as relaxed as possible on the day of vaccination. Eat nutritious food, get a good night's sleep, keep yourself hydrated, and stay stress-free.
Have a meal and drink enough water before you go for inoculation against COVID-19
People with diabetes or blood pressure need to keep their blood sugar and blood pressure levels in check. Don't stress yourself out; stay positive. Counseling can help if you are feeling too anxious.
Maintain social distance at vaccination sites and follow COVID-appropriate behavior at all times from the moment you step out for vaccination till the time you are back home.
Talk to the health care professional at the vaccination site about your medical conditions before getting the vaccine jab.
Frequently asked questions related to COVID-19 vaccine side-effects: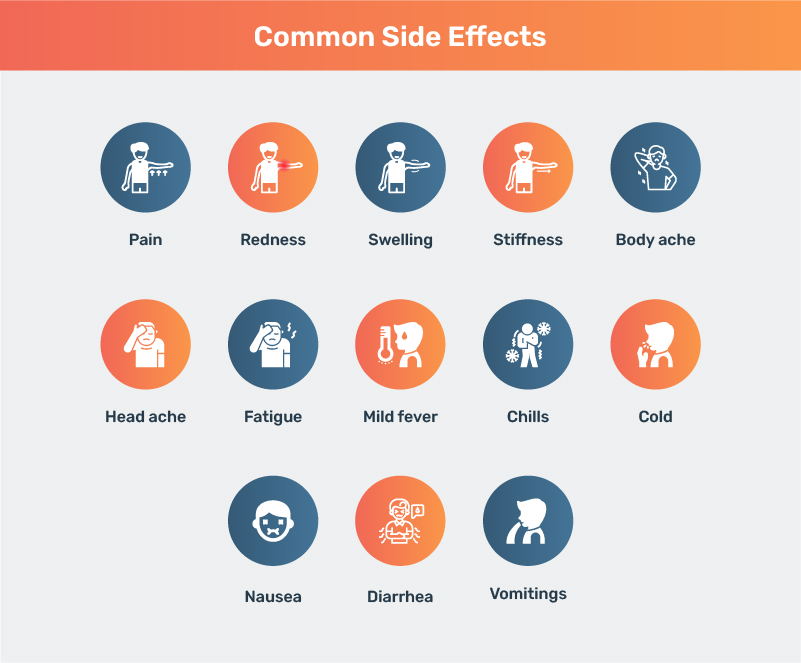 Should you be concerned about the possible side effects of vaccination?
As is the case with any vaccine, side effects are common for the COVID-19 vaccines too. While some people do not report any side effects at all, most vaccine recipients complain of a set of mild-to-moderate symptoms. Serious adverse effects are possible, but they are very very rare. As far as common side effects are concerned, you need not panic as these are the signs that indicate your body is responding to the vaccine and is building up immunity.
What are the common side effects of COVID-19 vaccines?
The most common side effects of vaccines include pain at the site of injection, redness, swelling, stiffness in the arm (called COVID arm), muscle pain, exhaustion, malaise, body ache, headache, cold, chills, fever, fatigue, abdominal pain, diarrhea, nausea, and vomitings.
How long do side effects take to appear? How long do they last?
Any of the above-mentioned side effects normally appear on the same day of getting the shot or the day after. Ideally, the symptoms fade away within a week, typically one to three days after their onset.
What can you do to reduce the vaccine side effects?
You can follow certain home remedies for relief from the side effects. Treat muscle pain with hot showers, practice gentle arm exercises for relief from the COVID arm, and apply a cold compress over the area where you got the shot to reduce the pain, swelling, and redness. If you have a fever, wipe your body with a wet washcloth to bring the temperature down and make sure that you intake plenty of fluids. Talk to your doctor before taking over-the-counter medication such as paracetamol.
When should you call the doctor?
You must reach out to the doctor right away if you experience breathing difficulties, heart palpitations, or swelling on your face or throat. Do not ignore if the redness on your arm worsens after 24 hours.
Post-vaccination care:
Getting vaccinated doesn't mean you could let your guard down. You must always adhere to the COVID-19 safety practices such as wearing a mask, washing/ sanitizing hands, following social distancing, etc., even after you are fully vaccinated.
After administering the vaccine, you will be monitored at the vaccine center for half an hour for immediate allergic reactions (the rare cases of anaphylaxis usually occur within the first 15 to 30 minutes). Inform the health authorities if you feel any discomfort or uneasiness.
Watch out for symptoms, alert the local health providers if you experience any unexpected side effects or other health events. You can call the health worker whose contact number is shared with you via SMS after receiving a vaccination or dial '1075' — the national helpline number for information and guidance.
Consult a doctor if the vaccine side-effects do not subside even after three days.
Proper sleep, a balanced diet, less strenuous exercise, high fluid intake, and low intake of caffeine are recommended after vaccination.