The best part about road trips is eating lip-smacking food from the roadside dhabas (eateries). Imagine driving in rainy weather, halting at a dhaba, and enjoying ginger tea, stuffed parathas, mouth-watering curries, hot-smoking chutney, and green chilies. Feels soul-filling, right? Unlike fancy restaurants, these eateries with traditional chaarpais, steel plates, a windy atmosphere, and a pocket-friendly menu are inseparable parts of a road trip. And to make your journey even more memorable, we are sharing 7 highway dhabas in India that you must stop by.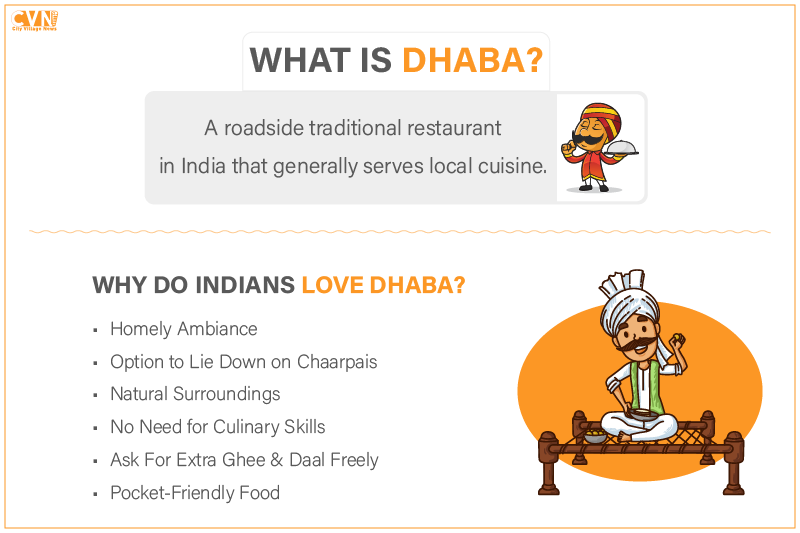 Popular Dhabas Across Highways in India
1. Amrik Sukhdev Dhaba, Murthal
From a small traditional shack to a swanky air-conditioned eatery, Amrik Sukhdev Dhaba has come a long way. The place used to serve truck drivers but in no time, it became a popular dining destination for travelers, youngsters, and couples. It is a well-maintained, clean, and classy place that serves delicious Indian and Chinese cuisines. Don't be surprised if you see a long queue waiting for a table to eat at this multicuisine dhaba. 
Location: GT Road, Murthal, Haryana
Avg Cost for Two: INR 400/-
Must-Have Dishes: Amritsari Kulcha and Aloo Paratha Dipped in White Butter, Hot-Served Jalebis, and Chilled Lassi
2. Giani Da Dhaba, Shimla Road
Giani Da Dhaba is a favorite halt place for people going to Shimla or Kasauli. It is one of the most famous dhabas in India famous when it comes to Punjabi cuisine. It is the oldest eatery in Dharampur with a nice ambiance and finger-licking food. Less of a dhaba more of a restaurant, Giani Da Dhaba is nothing short of a treat for your road trip. 
Location: NH-22, Kalka-Shimla Highway
Avg Cost for Two: INR 500/-
Must-Have Dishes: Green Chilli Paratha, Butter Chicken, Dal Makhani, and Tandoori Roti
3. Sharma Dhaba, Jaipur – Sikar Road
Talking about dhabas in India and not mentioning Sharma Dhaba is next to impossible. It is a perfect blend of luscious food and heart-warming hospitality. It is divided into two parts, a roadside eating joint and a backside eatery, known as Sharma Garden. You can choose any of the places to eat at. The best thing about this dhaba is its fresh ingredients coming straight from the farms. 
Location: NH-11, Jaipur-Sikar Road
Avg Cost for Two: INR 500/-
Must-Have Dishes: Rajasthani Cuisine, Paneer Butter Masala, Malai Matar, Dal Tadka, and Mawa Roti
4. Mr. Sanjay Dhaba, Srinagar – Leh Highway
A roughly maintained concrete sheet, plastic chairs, and heavenly home-cooked food are the identity of Mr. Sanjay Dhaba. This small eatery is heaven for hungry truck drivers, bikers, and travelers. Amazing scenic mountains, hot aloo paratha, and cuppa (black tea) make this dhaba a must stop by. 
Location: Srinagar – Leh Highway (50 km from Leh)
Avg Cost for Two: INR 300/-
Must-Have Dishes: Aloo Paratha, Gobi Ki Sabzi, and Refreshing Black Tea
Also Read: Best Food in India
5. Ummiya Annapurna, Gujarat
If you want to taste the best Kathiawadi cuisine on your road trip, there is no place better than Ummiya Annapurna. It serves authentic and traditional meals that not only fill your stomach but also your soul. The food is cooked over a wood fire that adds a rustic touch to it. 
Location: NH-8, Anand District, Gujarat
Avg Cost for Two: INR 400/-
Must Have Dishes: Lassan Aloo, Besan Gatte Ki Sabzi, Sev Tamatar Ka Saag
6. Sher-E-Punjab Dhaba, Kolkata-Digha Road
Sher-E-Punjab is a popular dhaba in Kolkata. It is a perfect combination of a dhaba and a restaurant that serves authentic Punjabi food on the Kolkata-Digha national highway road. It serves veg and non-veg delicacies that can make you go 'mmmmm'. 
Location: NH-6, Kolkata-Digha Road 
Avg Cost for Two: INR 400/-
Must-Have Dishes: Mixed Platter and Chicken Tikka Masala
7. Karnal Haveli, Punjab
The list of dhabas in India can not be completed without adding Karnal Haveli. It is an urban-style posh dhaba and is a perfect place for taking selfies. Generally described as 'Dhaba Re-defined', Karnal Haveli is a mini-version of Punjab. From ambiance to authentic Punjabi flavors, there is everything that makes you fall for this place.
Location: NH-1, G.T Road, Karnal
Avg Cost for Two: INR 600/-
Must-Have Dishes: Amritsari & Punjabi Chole, Naan, Kadhi, Parathas, Lassi
These are some famous highway dhabas in India that you must visit on your road trip. Try delicious Indian cuisines and enjoy a traditional ambiance that you will never get in any five-star restaurant. Follow City Village News for the latest news related to aviation, travel, entertainment, and more!
To fly to India at the most reasonable prices, book your flight tickets with Indian Eagle. Get the list of cheap flights to India from anywhere and enjoy eating delicious cuisines. 
People Also Ask:
What are roadside restaurants called in India?
The roadside restaurants are called Dhabas in India.
What is a Dhaba in India?
Dhabas are traditional roadside shacks usually found on highways or the outskirts of towns. 
What is Dhaba-style food?
Dhaba-style food is prepared with fresh ingredients and can be stored for a long time irrespective of the weather conditions. Dhaba-style food is cooked on a slow flame and more oil makes it taste better. 
What is dhaba called in English?
Dhabas in India are very popular. These are known as roadside eateries or shacks in English that serve traditional dishes.