Happy International Women's Day 2023!
Women are the pioneers in our society. From the world's economy to the monthly budget of a home, women take the lead in every segment. Every year, we celebrate the social, economic, and political achievements of women on the 08th of March. This year as we celebrate this occasion, we wish happy international women's day 2023 to all the women who have contributed to our lives directly or indirectly.
Did you know that 64% of travelers worldwide are female?
It is well known that many women have embarked on travel adventures across the globe in the history of humankind. These women have been the pioneers of female travelers and have encouraged millions of others to wander the world.
Women make 80-85 percent of travel decisions as compared to men. They are the perfect trip planners. From the budget to packing essentials, they take care of everything when it comes to traveling.
This International Women's Day, we are celebrating female explorers who had no boundaries. Let's take a look at the 5 most courageous women in the world who broke all the stereotypes and paved the path for female travelers.
Top 5 Female Travelers in the History
Jeanne Baret
Amelia Earhart
Isabella Bird
Harriet Chalmers Adams
Freya Stark
Enjoy Indian Eagle Women's Day Special Offers for Future Flight Bookings

Jeanne Baret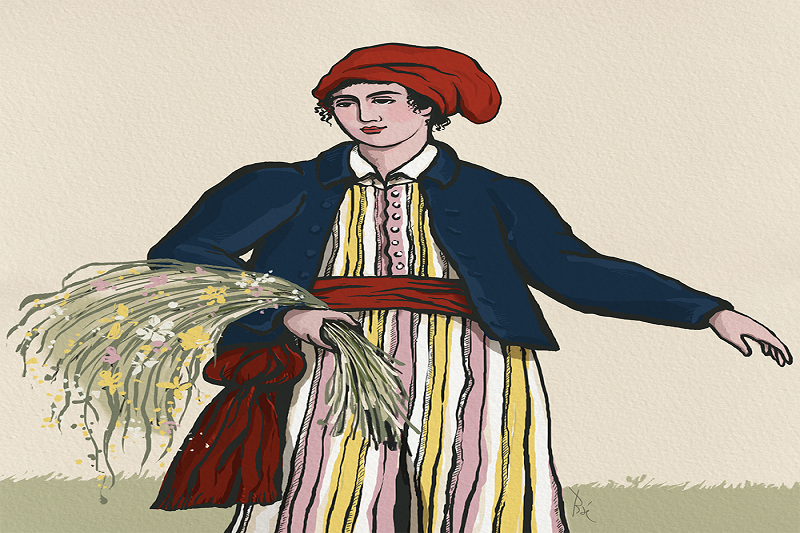 The first lady on the top female explorers' list has to be Jeanne Baret. Jeanne was a French botanist who became the first woman to travel around the globe. She started her career as a housekeeper for the naturalist Philibert Commerson. Soon Philibert got impressed with this talented and ambitious young woman and offered her to work with him as a botanist. In those days, women were not allowed to work on French Navy ships. Thus, Jeanne Baret disguised herself as a man and set out on a risky journey of botanical discovery. During her journey from 1764-1769, she completed several botanical expeditions across South America and the Pacific.
Amelia Earhart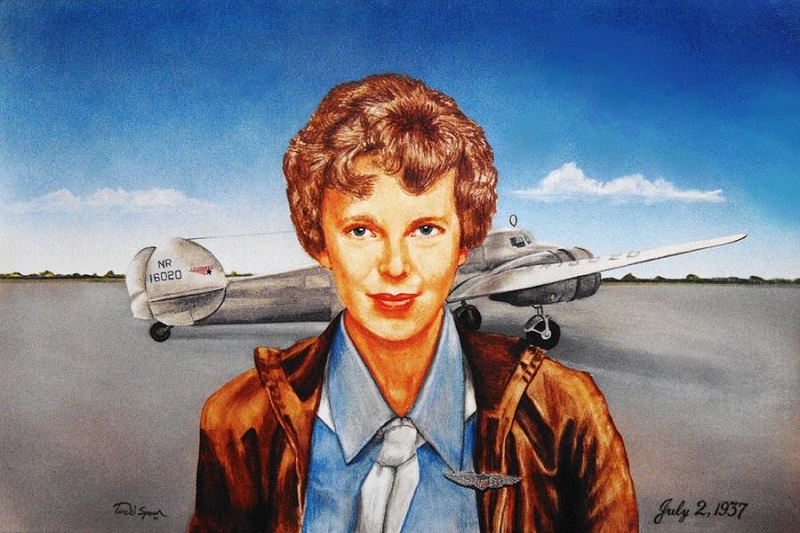 Born in 1897, Amelia Mary Earhart was the first female solo traveler who flew across the Atlantic Ocean. She is one of the most prominent figures in the history of aviation. There are numerous movies, books, and plays inspired by her influential life.
Amelia Earhart started her career in her twenties and soon became an inspiration to many women who had an interest in adventures and aviation. She set many speed and altitude records and won several awards too. She penned down her thoughts and traveling experiences in her books. To encourage women flyers, she also started an organization called the Ninety-Nines.
Isabella Bird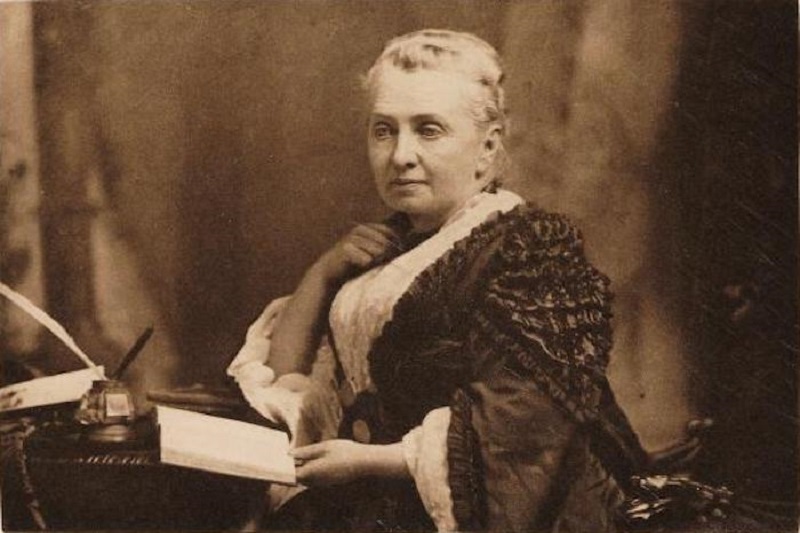 Born in the United Kingdom in 1831, Isabella Bird was a female globetrotter, author, photographer, and naturalist. In 1854, Isabella traveled to the United States to stay with her relatives and wrote several letters about her travel experiences. Then again in 1872, she went on another trip to Australia and Hawaii. She also covered a large area of Asia, including China, Japan, and Malaya while exploring the world.
Isabella Bird used to describe her traveling experiences in the form of letters and books. Her best-selling books are Sandwich Islands, A Lady's Life in the Rocky Mountains, etc. She also became the first woman to be elected Fellow of the Royal Geographical Society because of her significant writings and contribution to the travel industry.
Harriet Chalmers Adams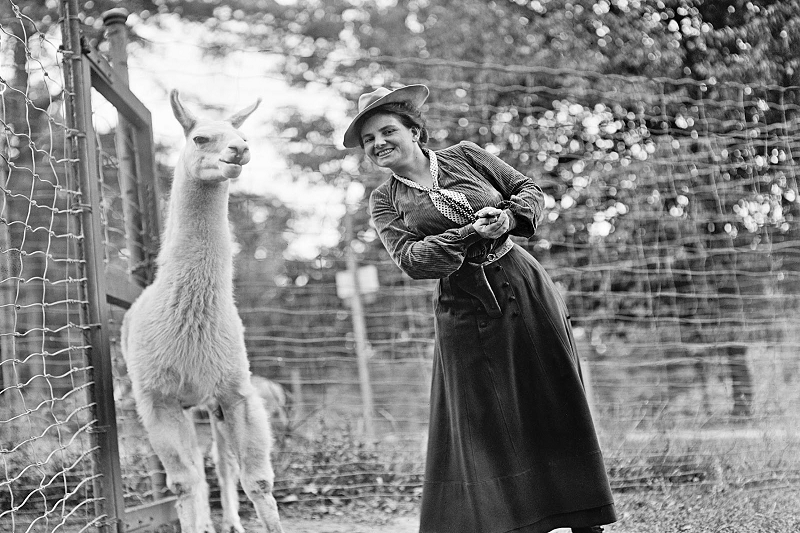 Born in Stockton in 1875, Harriet Chalmers Adams was a leading American explorer, journalist, and geographer. She was one of the busiest explorers of her time traveling over 1,00,000 miles in South America. She was a famous explorer, a sought-after speaker, and a member of National Geographic's lecture series. She used to love capturing the movement of her journeys and various beautiful sites in color photographs. She motivated and influenced several women who wanted to break the barriers and travel the world.
Freya Stark
Freya Stark was a famous British traveler and writer. During her entire life, she traveled to many regions and shared her experiences through her writings. Freya Stark was multilingual and could speak French, Italian, Arabic, and numerous other languages. While traveling to different places, she used to speak in the regional language to gain authentic experiences of each place. She described the local history and culture of different regions and countries in her books. Freya Stark traveled throughout her life and contributed to many political and philosophical works.
These are the five most influential and inspirational female travelers in the entire world. Their contribution to the history of traveling is remarkable. These women have not only made their mark in history but also encouraged many future travelers to fulfill their dreams.
March 08th is a special day when we celebrate women's achievements in all aspects of life. The day is also known as National Women's Day in America. It signifies justice, and dignity symbolizes hope and represents purity. So, this month, we are honoring the strength and invincibility of women at Indian Eagle.
This International Women's Day, we would like to appreciate all the women travelers. From passionate sightseers and working women to homemakers, every woman who loves traveling, there's something for you all!
To encourage you and your future travels, Indian Eagle is offering a Women's History Month special discount to save on flights between the USA and India. Avail Indian Eagle's special deals on Women's Day and spend this month celebrating womanhood.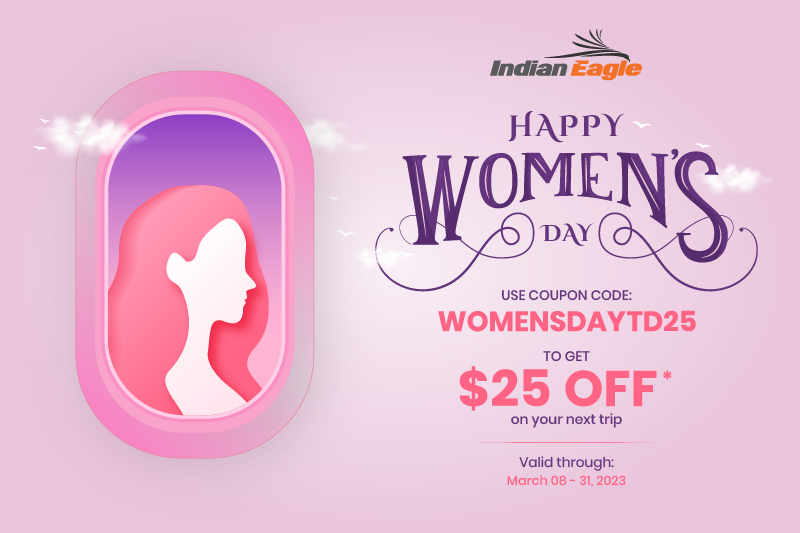 To know more about this special offer, you can contact us. Call us at 001-800-615-3969 or email us at eagle@IndianEagle.com.
Frequently Asked Questions
1. What day is happy International women's day?
The entire world celebrates and wishes happy international women's day on March 08th every year.
2. Why is International Women's Day celebrated?
International women's day is celebrated to honor the achievements of women in every segment.
3. Why is Women's Day on March 8?
In 1917, a Russian woman protested for women's rights under the slogan "Bread and Peace". That protest happened on the last Sunday in February which was considered to be on the 08th of March as per the Gregorian calendar. This movement was the inspiration for many women who were struggling in society to get their identities. So, as the symbol of appreciating and celebrating women, we wish happy international women's day on the 08th of March every year.
4. What is the theme of 2023 International Women's Day?
The theme of international women's day 2023 is "Embrace Equity".
5. What is the motto of Women's Day 2023?
The motto of celebrating and wishing happy women's day 2023 is to appreciate and acknowledge the precious contribution of women to our lives.
6. How do you celebrate International women's day 2023?
There are multiple ways to celebrate international women's day 2023. Some are mentioned here:
Watching a documentary
Reading books on women's empowerment
Donating funds to various organizations
Sending women's day gifts to the women in your life
Planning a trip
You can find cheap flights at Indian Eagle, an online ticketing agency that offers the cheapest international flights. You can avail of Indian Eagle deals and special International Women's day offers on flights to save more.
Disclaimer
: City Village News claims no credit for the images featured on its blog site. All the visual content is copyrighted to its respective owners only. We mention the source name of the picture whenever possible and found. However, please get in touch with us if we miss acknowledging the owner's source. In case the owners don't want us to use their images, we will remove them promptly. We believe in providing proper attribution to the original author, artist, and photographer.