A trip to Beijing, the bustling capital city of China must be made at least once in a lifetime. The city is famed internationally for the largest man-made wall structure- The Great Wall of China. Beijing is the most-visited cities of all the cities of China. If you are a first time visitor to Beijing, you certainly would be interested in reading our blog post on 'How to plan a trip to Beijing?
What is Beijing known for?
Beijing, sometimes known as Peking in the People's Republic of China is best-known for its historic tourist places, Chinese dynasties, gastronomy, Kung Fu martial arts, and small Beijing hutongs or narrow alleys dotted with signature style hutong courtyards.
How many days should you spend in Beijing?
We would recommend at least 5 days for a good Beijing tour. Anything less than 5 days may not help you cover all the top attractions of Beijing. That being said, a tour of the Great Wall of China and a half-day walking tour of a Beijing hutong must be an integral part of any standard Beijing tours package. Having prior knowledge of the essential things to know before moving to China can help you plan a seamless travel to Beijing.
What to do before flying to Beijing
First things first, before planning a trip to Beijing make sure you have an advance travel itinerary for Beijing in place so that you can be pretty clear about the places and landmarks you are visiting in Beijing. Having a travel itinerary can also help you decide on tentative travel dates for booking your flights and hotels in advance.  Always book your flights and hotels early for leveraging the cheapest prices. Have your cheapest flights to Beijing booked with IEagle.com for saving huge on airfares. Read on to get some useful information about Beijing so that you can meticulously plan a trip to Beijing, China easily.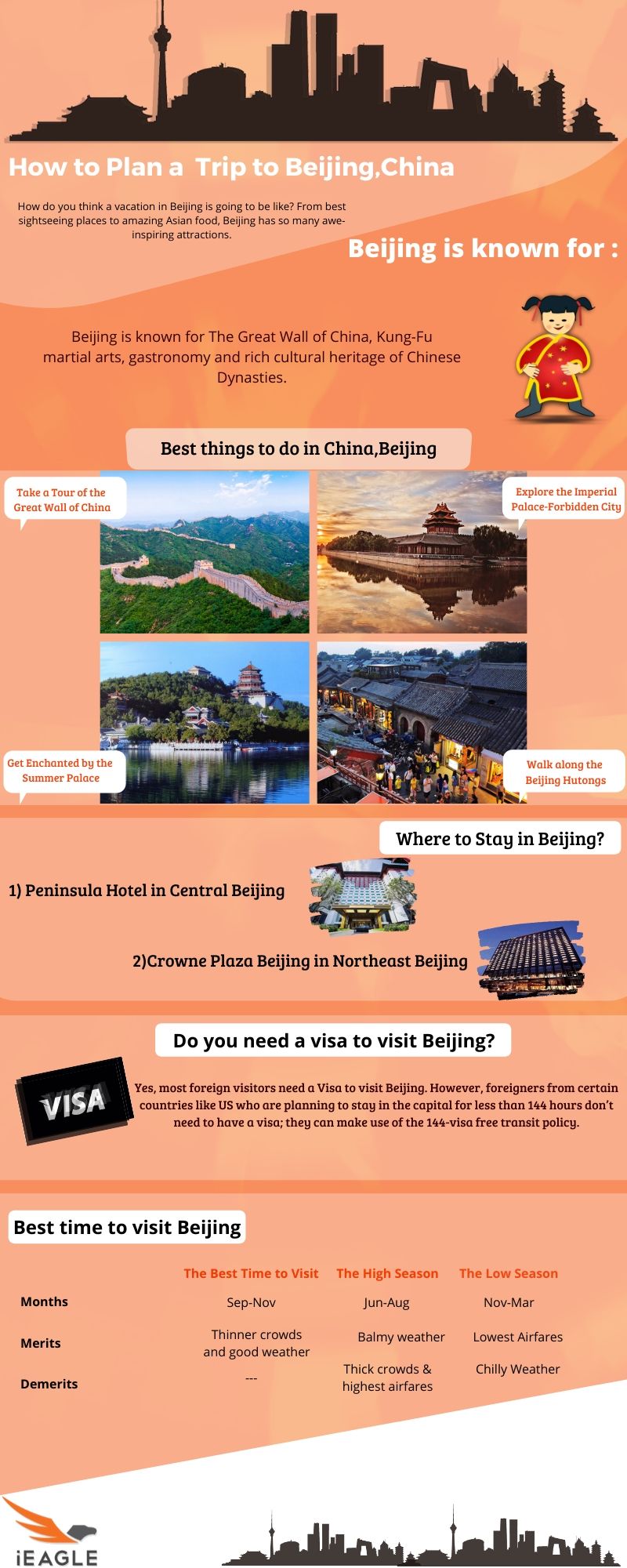 Bucket-list of best things to do in Beijing:
Take a tour of the Great Wall of China
This is one of the best historic tourist places to visit in Beijing. While there are many reasons to visit the Great Wall of China, you need to be aware that due to its astronomical size the wall is divided into many sections for touring. We recommend touring the Mutianyu wall section for learning about the Chinese History and the ancient military defense mechanism used
Visit the Forbidden City
The Forbidden City is another vital landmark that needs to be included in the bucket-list of things to do in Beijing. This is an imperial palace, popular for being the official residence of several Chinese Emperors from 5 Chinese dynasties including the famous Qing and Ming dynasties. The landmark is also considered a spooky place with ghostly apparitions of a woman in white, a must-visit place.
Explore the Summer Palace
Summer Palace, Beijing prides itself for being the best preserved imperial garden of the world. When you plan a trip to Beijing, don't forget to have it included in your list of landmarks to visit. The Summer Palace is a collection of royal palaces, lakes and gardens. The must-do is taking a boat ride on the Kumming Lake.
Walk along the Beijing Hutongs
One of the important charms of Beijing is its hutongs. A hutong is a Chinese word that simply means a narrow alley or a street inhabited with common people. A typical hutong in China is characterized by the presence of signature style Siheyuan courtyard houses. Walk along a Beijing Hutong to learn about the lifestyles and eating habits of the common people of Beijing while admiring the beautiful Siheyuan courtyard houses.
Where to stay in Beijing?
You will be spoilt for choices when you have to choose a good place of accommodation for your night's stay at Beijing. From luxury 5-star hotels to boutique style hotels and signature style hutong courtyards, there's no dearth of choices for spending a comfortable night at Beijing. Our top picks for hotels are Peninsula Hotel Beijing (5-star) in central Beijing and Crowne Plaza Beijing Chaoyang U-Town (5-star) in Northeast Beijing.
Do you need a visa to visit Beijing?
A valid Visa is required for foreigners planning to travel to Beijing for tourism purposes. The good news is foreign travelers from 53 listed-countries including United States and United Kingdom can make use of the 144-visa free transit policy to visit Beijing without a visa if they don't stay beyond 144-hours at a stretch.
Best time to visit Beijing
The best time to plan a trip to Beijing, China is during the autumn season (Sep-Nov) when the weather is balmy and pleasant. The peak season for tourism in Beijing is during the summer season (Jun to Aug) when the weather is warm and the low season is during the winter season (Nov to Mar) when the weather is cold. Even if a travel plan to Beijing pops up in the last minute, you can still buy them cheaply at IEagle. Have your cheap last minute flights to Beijing booked with IEagle.com right away for saving huge on airfares.