Coron, a tiny town on Busuanga island, is the jumping-off point for exploring the Calamian Group of islands in Northern Palawan. This fastest-developing town is the favorite tourist spot famous for its coral gardens, shipwreck diving sites, stunning lakes, safari rides, and island-hopping tours. Our travel guide to Coron aims to provide you with much-needed information right from the ideal time to plan a Coron trip to the things to do in Coron.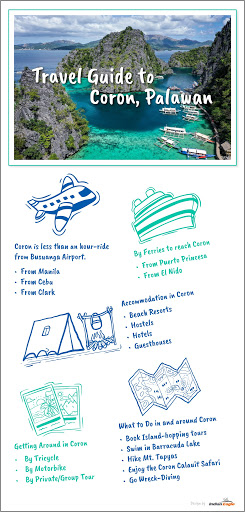 Best time to visit Coron:
Dry season (December to May) and rainy season (June to November) are two main seasons in Coron (and the Philippines). The tropical climate of Coron makes it the best choice to visit during summer months.
Getting to Coron:
Coron is conveniently accessible by both air and waterways. The daily flights from Manila, Cebu, Clark, Pampanga operated by Philippine Airlines, Sky jet, and Cebu Pacific airlines land at Busuanga Airport, from where Coron is less than an hour's drive. If you are traveling from the US or other countries, this travel guide to Coron recommends that you book cheap flights to Manila or Cebu and then fly to Coron from these places.
If you have to reach Coron from Puerto Princesa or El Nido, the only available option is to ride a ferry. The popular company 2Go Travel offers weekly rides to Coron from Puerto Princesa and Manila, whereas Montenegro Lines operate ferry boats from El Nido.
Getting Around Coron:
A 40-minute ride from the Busuanga airport takes you to Coron. You could move about in the town using public transportation or private means such as renting a tricycle or a motorbike. Getting around the small town of Coron is quite easy — you could even choose to walk during your Coron town tour. However, there are only two ways to explore the islands nearby Coron — chartering a private boat or booking a group trip with other travelers.
Accommodation in Coron:
This travel guide to Coron comprehensively covers the major lodging options available in and nearby the town of Coron.
Beach Resorts: The stay at beach resorts gives easy beach front access, which is why this is the perfect lodging option for most tourists. Two Seasons Coron Island Resort and Spa, Coron Soleil Garden Resort, Coron Westown Resort provide luxurious comforts, sea views, and pool facilities.
Hotels: Some of the top-rated hotels in Coron are Two Seasons Coron Bayside Hotel, Asia Grand View Hotel, Corto del Mar Hotel, and Coron Eco Lodge. The upscale Two Seasons Coron Bayside Hotel features an infinity pool, in-house restaurant, and fashionable rooms. The cozy rooms at Asia Grand View Hotel come with a mini bar. Coron Eco Lodge is a boutique hotel that offers 22 air-conditioned twin rooms.
Hostels: The clean rooms and satisfactory room services of the hostels in Coron make them one of the best alternatives for affordable accommodation. The popular hostels like Fat Monkey Hostel, Hop Hostel, and Happy Camper Hostel offer a comfortable stay in a peaceful location.
Guesthouses: Mostly preferred by solo backpackers, guesthouses are the best budget-friendly options to stay while holidaying in Coron. Sea Horse Guest House is known for its dormitory-style rooms and rooftop area, where you can dine taking in the views of the ocean. Another popular choice is Coron Voyage Guesthouse.
What to do in and around Coron:
From island-hopping to hiking, this travel guide to Coron suggests five of the unmissable things to do in Coron.
Book Island-hopping tours: The various island-hopping tours such as Coron Island Tour A, Coron Island Tour B, Island Escapade Tour C1, Island Escapade Tour C2, and Coron Island Ultimate Tour take you to a set of different islands, beaches, lakes, lagoons, coral reef gardens, and snorkeling sites.
Swim in Barracuda Lake: Situated at the north end of Coron Island, Barracuda Lake is a scenic spot featuring the clear emerald waters of the lake surrounded by limestone cliffs. Swimming or snorkeling in this calm lake is one of the best things to do in Coron.
Hike Mt. Tapyas: The view deck on the summit of Mt. Tapyas offers panoramic views of Coron, for which you need to climb nearly 750 steps. Set out in the evening time to catch the sunset view of the town and the neighboring islands.
Enjoy the Coron Calauit Safari: Visiting the Calauit Safari Park and partaking in Coron Calauit Safari is a must-do activity for every wildlife enthusiast. Spotting Zebras, African giraffes, Calamian deer, few antelopes during the ride reminds you of a typical African Safari.
Go Wreck-Diving: Coron is particularly famous for its wreck diving sites, some of which are Lusong Gunboat shipwreck, Lusong Coral Gardens, and Pass Island. Dive at Skeleton Wreck to witness a sunken WWII ship. Reefs and Wrecks is a famous diving tour in Coron.